To save file on atom, push ctrl-S usually. But occasionally Atom editor do not work well in saving a file even latest version of Atom.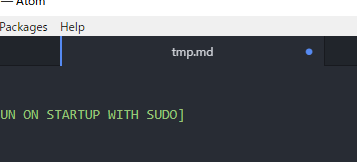 Make sure the lamp icon in the top of bar there is. If the lamp is turning off state, probably the file saved successfully.
If the file was not saved by ctrl-S, follow follwing instruction.
back up the file entirely (ctrl-A and paste to somewhere)
delete or make empty the file. You can make empty the file with Bash command line with > file.html
reopen – If you've deleted the file, recreate it before – the file on Atom.
Paste the backed up file data to the opened file.
Try to save with ctrl-S. probably it works.
If you didn't solve the problem by this method and You found another method, let me know by comment.
---
---
Articles maybe related

No releted article found.